Incorporating High Calorie Supplements Into Your Diet While Minimizing Sugars
Struggling with weight gain throughout my lifetime has required daily attention to making sure I am consuming enough calories just to maintain my weight. For many years, really ever since childhood, I had been drinking ScandiShakes--at least one packet per day. I have to be honest, I quite liked them, but if you have ever looked at the nutritional label though, you would see it has upwards of 50 grams of sugar per package! As someone who has been diagnosed with cystic fibrosis-related diabetes (CFRD), although not needing to take insulin yet, I have in the past few years made it a point to slow the dependence on insulin by cutting out avoidable sugars from my diet.
Nutritional guidelines for CF have changed
Only in recent years has there been a shift in nutritional guidelines for those with cystic fibrosis from a solely high calorie, high fat-focused diet - no matter the source or quality of food. A lot of calories are contained in carbohydrates, and carbohydrates break down in the body and are turned into sugar. Nowadays, there is more attention from CF dieticians and nutritionists on recommending the incorporation of healthy fat-containing foods into our diets like nuts, eggs, and avocados.
Could the prevalence of CF-related diabetes be correlated to our diets? Could be, who knows. But on a mission to improve my nutritional intake while still consuming the high-calorie milkshakes I need to supplement my diet, I discovered a new combination as a shake alternative and have been drinking them since!
The high calorie shake in my diet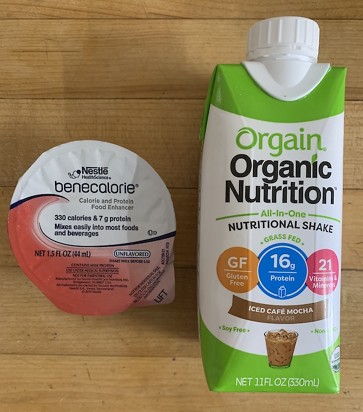 I combine an Orgain Organic Nutrition All in One Nutritional Shake (11oz) with a Nestle Benecalorie container (1.5oz). This is a quick, on-the-go combination since both are prepackaged and are liquids that don't require much stirring. In a shaker or cup, I mix the two for a few seconds and enjoy!
Benecalorie is a food enhancer that has no sugar, is high in proteins and fats, and only 1.5 ounces so it's not filling up your stomach with volume. It is 330 calories alone. The Orgain drink has only 12 grams of sugar yet is very tasty having 250 calories. Combined, this is equivalent to about one ScandiShake powder package.1,2
With the advent of Trikafta and many of us on modulator therapies, eating a fat-rich food with each dose is very important for adsorption. This could be a perfect snack with that 10 pm dose!
Tips and alternatives
To note a few tips and alternatives: I love the iced mocha flavor Orgain, but chocolate, strawberry, and vanilla are available as well. I also keep the Orgain drink refrigerated beforehand so it's refreshing and cold – comparable to a Starbucks drink but without the caffeine.
Both of these items are also reimbursable through the HealthWell CF Vitamins and Supplements Grant!3
Although I crave sugars and do allow myself a cream-filled donut now and again, I pay attention to the ingredients and nutritional value of the foods I consume to help in making decisions on optimizing calories and yielding high nutritional intake. I try to eat well, live well, and be well.
What are your tips for maintaining a high-calorie diet with cystic fibrosis? Share in the comments below!
This article represents the opinions, thoughts, and experiences of the author; none of this content has been paid for by any advertiser. The Cystic-Fibrosis.com team does not recommend or endorse any products or treatments discussed herein. Learn more about how we maintain editorial integrity
here
.

Community Poll
Have you participated in clinical or market research before?