Home infusions (IVs) are something most of us with cystic fibrosis are accustomed to. It's one of the best ways to receive IVs without having to do an entire 2-week hospital stay. It's what I like to call my "tune-up", except I get to be home and comfortable.
I have a chest port; it is placed on my right upper chest and I love it. It's extremely convenient and it's been a positive experience so far having it.
I feel confident using my port
Home infusions can be intimidating for those doing it for the first time but it's rather routine when you get used to it. I do everything myself, which gives me confidence and independence and I feel more in control of my healthcare.
Many can find it intimidating or frightening to access the port by themselves but it's all very possible. There is actually a lot of CFers who access and de-access their own ports. I learned from my wonderful CF team, they helped me learn how to access it with the Huber needle and flush it every 4 to 6 weeks when it is not in use.
Others simply can get flushed and maintain their ports by going to the hospital monthly, but I do it by myself and go about my day. Always, of course, do what is best for you and be safe at all times because you must always create a sterile environment, and plus you don't want to harm yourself.
My home IV routine
During home IVs, I usually set up my meds on a schedule and have my supplies ready for each medication. The medication I use for home IVs are refrigerated, so I keep a nice area in the fridge specifically for it. Keeping on schedule is very important because some medications run differently.
I am currently on home IVs and am on two different antibiotics. I have one that I take every 24 hours and the other every 8 hours or 3 times daily. It's important to keep on schedule and follow your alarm.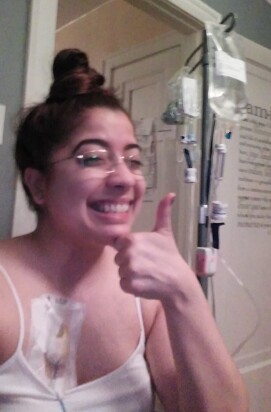 Prepping for home IVs
I always mentally prepare myself because home IVs like the hospital can be draining. You can lack sleep from meds because some run every 4 hours or 6 hours and so on. It's important to use the IV time to rest and make sure your body is relaxed so you can recuperate and just feel okay. In my case, I suffer a lot from side effects.
I always manage to get a good brunt of pains, nausea, and lack of sleep--which in itself can be draining. At least I always know that I am doing this to be healthy and do the best that I possibly can to fight these lung infections.
Keep an open dialogue with your CF care team
Home infusions mean you will get weekly visits from your home health nurse as well. It's always important to establish a good relationship because you want someone who is going to genuinely care about you and someone you can trust. My home health nurse is wonderful; I always request her from my home health agency because I trust her and have a good relationship with her.
Remember you are the patient and it's your home. You always fight for your rights to be cared for by a nurse that is truly dependable, knowledgeable about ports, and understands the importance of good hygiene practices because we have CF and we are immunocompromised. Home IVs can be scary but it is, at times, the best choice. Don't be afraid of giving it a shot, but know it isn't for everyone. Always do and choose what's best for you.
If you're looking for more information on home IVs for cystic fibrosis, check out this video.
This article represents the opinions, thoughts, and experiences of the author; none of this content has been paid for by any advertiser. The Cystic-Fibrosis.com team does not recommend or endorse any products or treatments discussed herein. Learn more about how we maintain editorial integrity
here
.

Community Poll
Have you participated in clinical or market research before?