Interview With Julia Rae
Most people in the cystic fibrosis community have heard of Julia Rae. Julia Rae is a singer, songwriter, actor, model, and a CFer who is a patient advocate for the cystic fibrosis community. A native of Wayne, Pennsylvania, Julia grew up singing in her community.
Julia has been crowned Miss Teen Philadelphia and Miss Philadelphia, has been a featured singer in the Philadelphia ABC Thanksgiving Day Parade for 8 years, was a contestant on "The Bachelor Presents: Listen to Your Heart," and more. She raises funds through her foundation, Singing at the Top of My Lungs, to benefit the Cystic Fibrosis Foundation and to make a difference in the lives of hospitalized children through music, art, and child life.
In this interview, Julia shares what it was like growing up with CF and how her experiences with CF led her to become who she is today.
Interview with Julia Rae
What was the toughest part about growing up with cystic fibrosis?
Julia Rae: The toughest part about growing up with cystic fibrosis was accepting that I was different from my peers. I was about 7 or 8 years old when I realized my friends were not facing the same battles as me — I hadn't visited my friends in the hospital; they weren't spending hours a day doing breathing treatments; they didn't get as easily fatigued as I did.
To be honest, there are still days where I struggle with this. I think the thing that has helped me is putting it in perspective, and knowing that though everyone's battle might not look like mine, everyone is still fighting their own. These were the cards I have been dealt and I get to choose how I play them. When I frame it like that, I feel empowered to tackle my day and put CF in its place — as something I will deal with, but won't be overcome by.
What's something most people don't know about you?
Julia Rae: I'm a tomboy at heart. I love sports — watching them, playing them. I have two older brothers who made sure I knew that throwing a spiral was more important than learning how to do my makeup.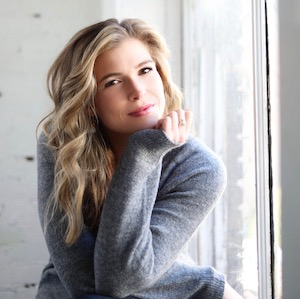 What inspired you to start Singing At The Top Of My Lungs?
Julia Rae: When I was 16 years old, I was crowned Miss Pennsylvania's Outstanding Teen. This was a service and scholarship program, so for the first time in my life, I decided to use my voice and platform to raise awareness about cystic fibrosis. I wanted to combine my passion to perform with this new mission, so I decided to "sing at the top of my lungs" for CF. I quickly learned the power of sharing my story, as I heard from parents of young patients or patients themselves, thanking me for speaking out. I decided I didn't want this work to end just because I no longer had a crown or title, so Singing at the Top of My Lungs became a 501(c)(3) organization.
Our mission has evolved over the years, as CF research and funding has jumped leaps and bounds. While we will always raise awareness for CF, our funds are now committed to supporting music and child life therapy programs in children's hospitals. These programs are so important to the holistic care of patients, yet so underfunded. I experienced the magic of music therapy and child life firsthand at my children's hospital, so it means a great deal to be a small part of delivering the power of these therapies to patients today.
If you could sing along with any artist who would it be?
Julia Rae: Oh jeez... I have so many answers to this question! Here's my shortlist :) Bruno Mars, Freddie Mercury, Elvis Presley, Celine Dion, Shania Twain, Don Henley, Linda Ronstadt.
What piece of advice would you give to a CFer about following their dreams?
Julia Rae: Think of having CF as an advantage! You've already faced challenges and obstacles, so you're well prepared for the resilience it takes to follow your dreams, whatever they may be. Rejection and setbacks are inevitable no matter what path you take, and CF has given you a toolbox of skills to rely on when the going gets tough. You haven't let CF stop you, so why should anything else?
This article represents the opinions, thoughts, and experiences of the author; none of this content has been paid for by any advertiser. The Cystic-Fibrosis.com team does not recommend or endorse any products or treatments discussed herein. Learn more about how we maintain editorial integrity
here
.

Community Poll
How has CF impacted your decision to become a parent?