How Has CF Affected Your Hobbies & Passions?
Last updated: October 2022
If you or a loved one has CF, you probably know that it can dictate what types of hobbies we can have. We asked our advocate team, "How has CF (or caring for someone with CF) affected your hobbies and passions? Has it helped you find something you love to do?" Here is what they said:
I went from running to drawing
Response from Katelyn Harlow
mental health
was amazing, my lungs were so strong and healthy, and my stress was fairly minimal.I cannot run like that anymore, but I started drawing a couple of years ago as a hobby and now it has turned into a part-time job! Right now I am illustrating a children's book and it has provided me with a lot of stress relief. When I draw, I step into the drawing and get absorbed into the story I'm telling with my pens and markers!
Exercising and baking
Response from Marieliz Landa
I used to run marathons (while in graduate school and working full-time) and it had such a positive effect on me. My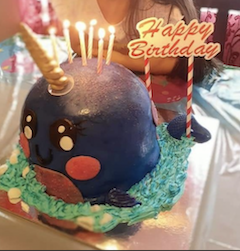 I used to love to rollerblade, bike ride, play with my nieces and nephews, and be more active. When my CF started advancing and I couldn't do what I used to without getting tired, coughing up blood, or going into an attack where I couldn't breathe, I stayed inside more and found new hobbies to keep busy.
I exercise moderately, as I can tolerate, and I learned to bake! I watched YouTube videos and began baking cakes. Now I bake for all my nieces and nephews' birthday parties and I make the cakes! I made a dinosaur, narwhal, cookie monster cakes and even cookies! I am pretty good now that I have practiced so much but it makes me so happy to see everyone's face when they see and taste my cakes!
Arranging flowers
Response from Janeil Whitworth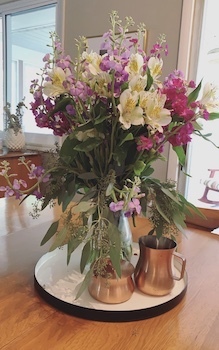 Because of CF, flowers have always held a special significance to me. Particularly during long hospital admissions or bad CF days, my mom would bring me flowers to brighten my mood. And they would!
Over the years, I have become more and more interested in flower arranging and gardening. I love seeing the progress of my garden and enjoying the beauty, and I have CF to thank for that. Every day, fresh flowers on our table and my gardens outside are a reminder of the joy present even in hard times.
Dance and theatre
Response from Cheriz K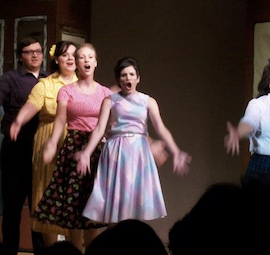 CF influenced my hobbies a little. I did struggle with doing aggressive, non-stop movement, so even though I loved basketball, I never played on a team. I started dance at a young age to help build my muscles but didn't do it competitively. I also got really involved in non-physical activities: Girl Scouts and volunteer options.
As I got older and started to perform in school shows, my passion for dancing, singing, and acting really came forward. I did shows while in college, and throughout my local community. I have been in over 30+ theatrical performances. I have gotten paid for a few acting jobs between 2008-2010. I started to get involved off stage doing choreographing, directing, and producing plays.
I hope I always continue to be involved in theatre in some way. I have taken a few years off, it's been hard to do theatre with fostering, but I know I will be back on stage in the next couple years. I wrote a blog about my passion for theatre, which explains how much that passion helped me.
The importance of hobbies with CF
Response from Misty Roussa
If anything, CF has amplified my need and drive to pursue passions because I am getting a first-hand look at how fragile life is. I do not like the reason that I am a CF advocate, but I am proud to do it. I am his voice right now. I am the one that goes to fight for him. My husband and I are his protectors. We were not able to protect him from this, but until our last days, we are going to protect him from as much of it as we can and do whatever we can to make sure that he knows that.
This article represents the opinions, thoughts, and experiences of the author; none of this content has been paid for by any advertiser. The Cystic-Fibrosis.com team does not recommend or endorse any products or treatments discussed herein. Learn more about how we maintain editorial integrity
here
.

Community Poll
Have you participated in clinical or market research before?